Yes. We need both a GP referral letter and a Mental Health Treatment Plan for Medicare to subsidise your appointment.
When submitting your referral documents from you GP there are two documents we need:
1) A referral letter from your GP
2) A copy of your Mental Health Treatment Plan that your GP has created with you
What is a referral letter?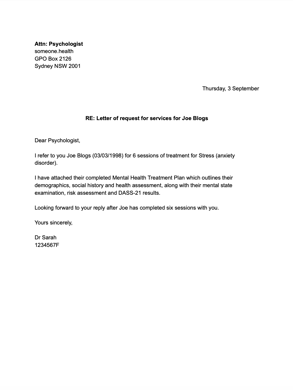 A referral letter is usually a one page letter written by your GP that is written as a letter to a psychologist, asking the psychologist to provide therapy to you.
Your referral letter will need to include the number of sessions with a psychologist your GP is granting (each letter can give a maximum of 6 sessions) and the reason for seeking treatment (such as depression or anxiety).
Your referral letter doesn't need to be addressed to someone.health or any specific psychologist, as long as it is added to any psychologist you can use it with someone.health.
What is a Mental Health Treatment Plan?
A MHTP is a document that your GP prepares with you and includes your personal information, emergency contact details, a risk assessment, results from an assessment like a K10 or DASS-21, your goals for treatment.
It is usually multiple pages and you will need to provide a copy of all the pages of the MHTP.
You can view a sample MHTP here. Every GP practice uses a slightly different template, so it may look different but should still contain the same information.
Where do I upload my documents?
You can securely upload your referral letter and MHTP in your my.someone.health portal.
You can also email a copy through to referrals@someone.health